Research Program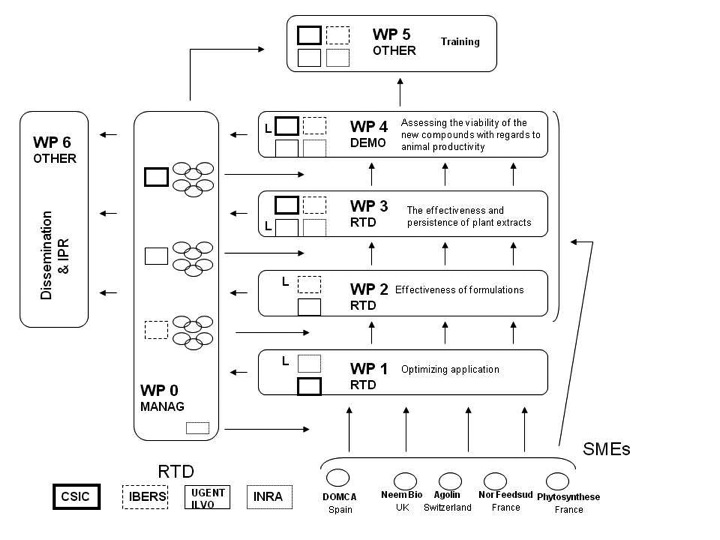 Work package 1: Project management
The overall management goal of the consortium is to ensure that the objectives are realised within the time, budget, effectiveness and quality criteria. Effective execution of this project including planning, organising, staffing, directing, co-ordinating, reporting, budgeting, communication, review and assessment.
Work package 2: Optimizing the application of plant extracts in the diet
Working in close association with SMEs RTD performers will develop or adapt analytical methods for detection of active molecules in different feed matrices and provide baseline information on the stability of plant extracts under different environmental conditions and to correlate this with the biological activity. We will also assess the utility of different methods of presentation of the plant extracts in order to extend their stability and effectiveness.
Work package 3: The effectiveness of different formulations in inhibiting methane production
We will provide a platform in which the effect of different formulations and sources of plant extracts can be evaluated in order to establish the variability in response that might be expected in practice. The effectiveness of plant extracts purified and concentrated to different extents and the possible synergy when extracts are used in combination will be evaluated. A test platform for material from WP2 to establish a relationship between recovery of active molecules in different feed matrices and biological activity will be provided. A baseline correlation in the relationship between concentration of bioactive and biological activity in vitro and in vivo will be established.
Work package 4: The effectiveness and persistence of plant extracts in inhibiting methane production
SEMthane will provide in vivo screening systems that allows rapid testing of compounds of interest in appropriate animal models. It will also provide the basis for longer term experiments which will access the persistence of effects over a longer time scale and a range of doses and under a range of dietary and production systems. The responses in the animal to responses obtained in vitro (WP3) to establish a relationship between dose response relationship for plant extracts in vitro and in vivo will be studied. Samples will be taken to measure the possible transfer of active compounds or their breakdown compounds into the animals tissues. We will provide data that will allow case studies on the relationship between dose response, efficacy and financial return.
Work package 5: Assessing the viability of the new compounds with regards to animal productivity
We will investigate the effect of additives on productivity and product quality in on "farm trails" and relate this to measurements made in the more controlled experiments noted in the earlier work packages. SMEthane will complete an initial life cycle analysis in the relation to the use of plant extracts as an on farm, mitigation strategy.
Work package 6: Training
SMEthane will provide training for the SME sector and its customer base in key areas relevant to the development and usage of novel dietary additives to decrease methane emissions from the ruminant livestock sector. Whilst these workshops and associated materials will be based on case studies provide by the SME partners in SMEthane they will be targeted and marked at the wider SME sector and its related customer based (the animal feed supply sector).
Work package 7: Dissemination and IPR
As part of the project we will encourage best practice and an entrepreneurial culture amongst the SME community developing plant extracts for the ruminant feed market by ensuring that the information and experience gained within the project is disseminated widely in an accessible and exploitable manner. In particular we will seek to promote the importance and added value that can be realised in this sector through the appropriate partnerships with RTD providers.